IPAS-18 - Portable IP Audio Streamer
IPAS-18 is an independent audio streamer, easy to use and remotely controlled.
It streams MP3 audio and also from the Microphone and people can receive the audio online by using the IP address.
It has two separate audio inputs, 6.35 mm Mono Microphone input and 3.5 mm stereo audio input. The microphone input supports up to 33dB.
It can work with Shoutcast or Icecast compatible servers. IPAS is fully compatible with our IPAR product.
IPAS has a built-in web server and audio server. The built-in web server enables remote controlling and built-in audio servers to enable easy re-streaming audio inputs.
It has a WiFİ Hotspot feature, which you can activate from the button and connect it to control IPAS.
IPAS can work with Shoutcast and Icecast servers. Our receiver, IPAR, is bundled with an audio server compatible with Icecast.
Features :

• Creates digital OGG/MP3 audio streams at a bit rate that can be set from analog audio inputs.
• Supported network connection methods: HTTP, BRTP, RTP, sip, raw UDP, raw TCP, Icecast, and Shoutcast.
• Streaming encryption and distribution methods:
• Easy setup with a standard web browser
• Internal Icecast compatible Audio Server
• Remote control over TCP/IP or cloud
• 3G/4G USB Modem Support
IPAS-18 Application :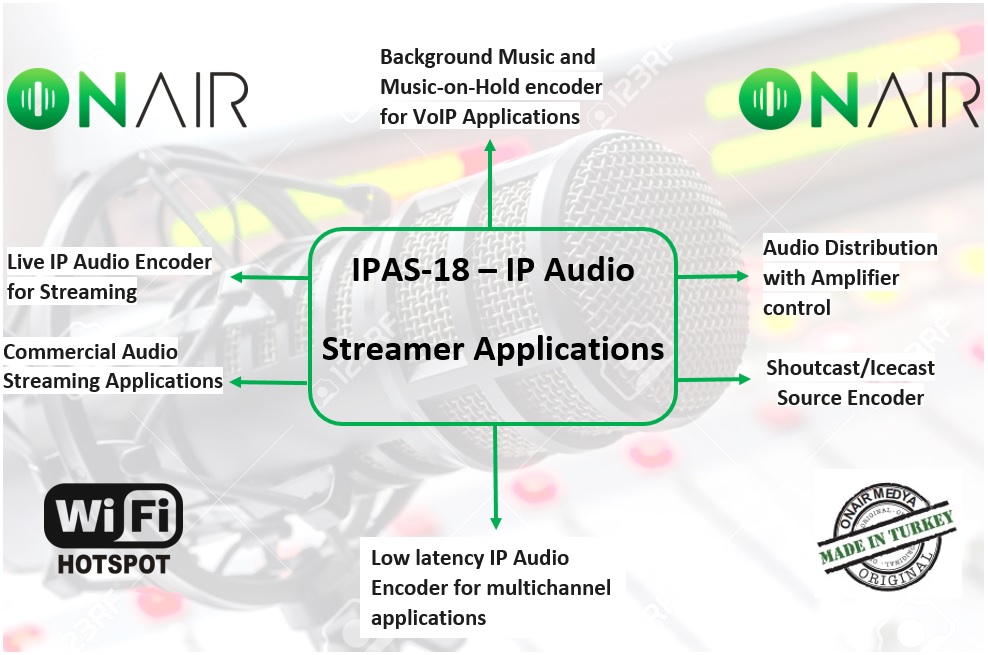 IPAS-18 ICECAST/SHOUTCAST Usage :

---